3 Ways to Spice Up Your Push Ups!
 Stuck in a push up rut? Here's 3 different ways to add variety to your push up routine, and strengthen muscles that you don't usually hit.
1) Down Dog Push Ups: Down Dog Push Ups allow you to work your back more than your chest, you'll feel your lats as you lower the crown of your head to the floor. Bonus: it's a great stretch for your hamstrings! 
2) Scapular Push Ups: These strengthen your scapular muscles and allow for greater shoulder strength and mobility. If you're doing them from a forearm position they are also a great way to sneak in some plank work.
3) Banded Tricep Push Ups: Got a resistance loop? You can use it to assist your tricep push ups! These are one of the most challenging push up variations and the loop band helps you keep perfect form. Just slide the band up above your elbows to keep your arms in tight to your body. The band will also help rebound you back to your starting position. If you've never tried tricep push ups from the straight leg position, this is a great way to start!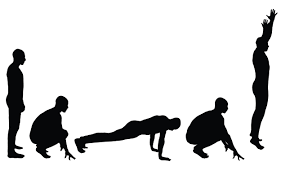 Spicy Burpee Variations Try these 4 burpee variations in an EMOM style completing 11 reps every minute 2 times through. Use it as a spicy finisher to any workout for a huge punch of cardio. 1) Traditional Burpee 2) Tuck Jump Burpee 3) Wide Out Burpee 4) Squat Jump to...